Our Glasgow studio has recently had a huge fabric restock. We've got lots of new beautiful materials. But we are particularly excited to share with you the jerseys we have just got in. But rather than just showing off the fabric we now have in stock, we thought we could let you in to our world, and tell you about our favourite jersey sewing patterns to work with.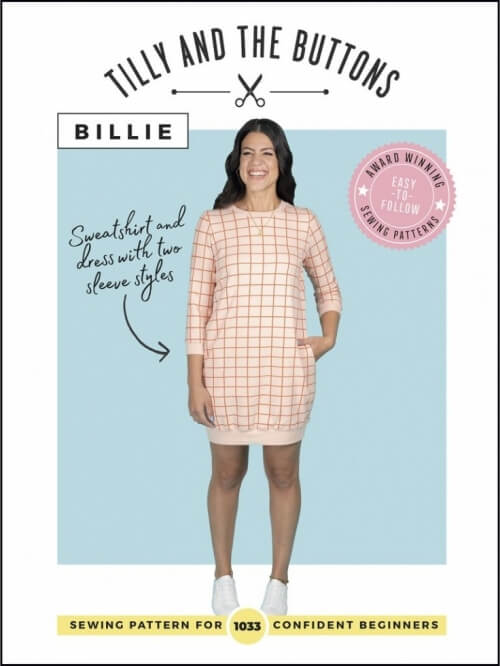 This uber comfy make can be created as a sweatshirt or sweater dress, with regular or balloon sleeves. Also, you can whip this make up in an afternoon, and so is a great intro if you are new to sewing with patterns.
However, if you are wanting an extra hand with making this pattern we have a Billie Sew Along Jumper Dress Fabric Kit currently in stock. Within this pack you will receive a copy of the Tilly And The Button Billie pattern, fabric that we've picked specifically for this pattern and matching thread.
Skill Level – Beginner
Size Range – UK 6-24
Fabric – sweatshirt fleece, french terry, ponte, double knit, interlock or sweater knit with at least 10% stretch.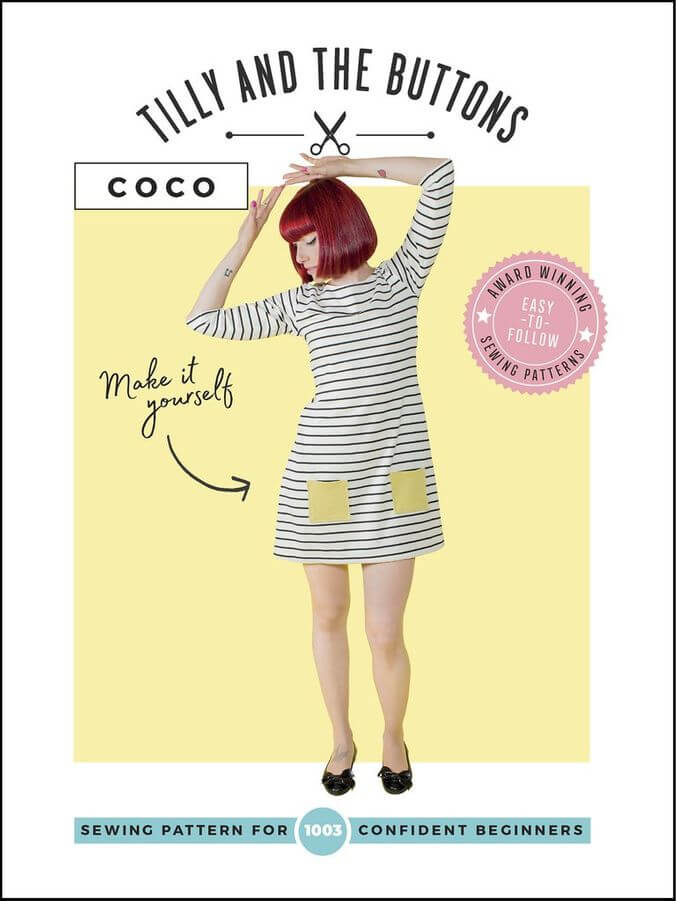 With no zips, buttons or any other tricky bits to get your head around, this pattern is a great one for those new to working with jersey. Additionally, this pattern has a few variations – top or dress length, full length or three quarter sleeves, boat neckline or funnel roll neck – so you can pick a design to best fit your style.
Skill Level – Beginner
Size Range – UK 6-24
Fabric – a medium weight knit fabric with little stretch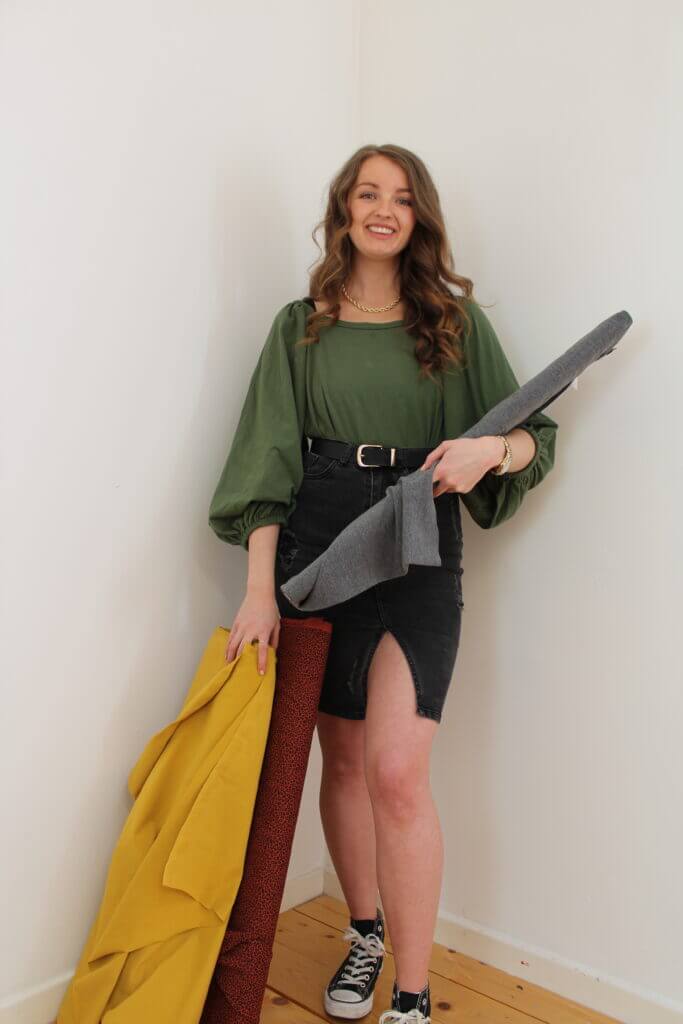 This Adrienne pattern is a firm studio favourite. I mean, just look at those sleeves!
The Adrienne top is a knit top with billowy eye catching sleeves that are gathered up at the shoulders and hems with elastic.
Also, we have a kit for this make which you can find here. In this kit you will get the Friday Pattern Company Adrienne Blouse pattern, elastic, thread, and a suitable fabric for this creation.
Did you know this top has been used in one of our sew alongs? You are able to access all past and upcoming sew alongs as a VIP Sew Confident member. You can find out more about our VIPs here.
Skill Level – Beginner
Size Range – XS – 4X
Fabric – suitable for all kinds of knit with at least 25% stretch. In this photo of SC Colette, the blouse was made using our green Jersey which you can purchase here!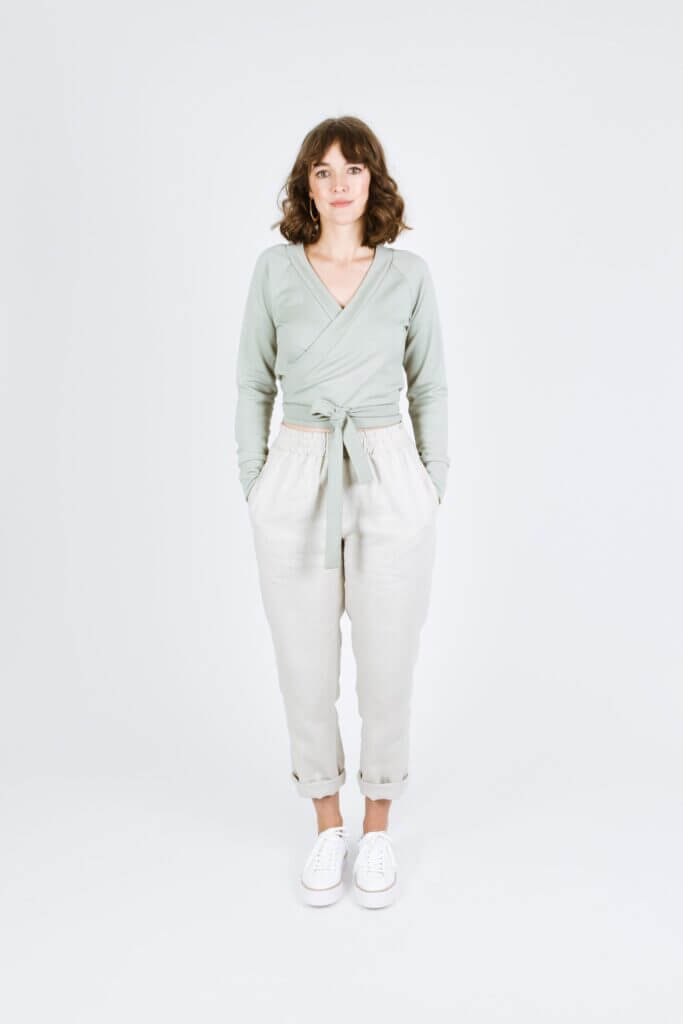 We think this classic ballet style wrap cardigan is a great pattern to test yourself with. This pattern features a raglan sleeve and a fully adjustable tie through waist, making this make a truly comfortable and practical ware.
The Coppélia caridgen has two variations available. You can make it full length with the wrap tie attached at the side seam and a band at the bottom, or cropped with a long waist tie to wrap around and tie in a bow.
Skill Level – Intermediate
Size Range – UK 6 – 20
Fabric – Jersey Fabrics: Wool Jersey, Cotton Knit, Cotton/Lycra, Viscose/Lycra.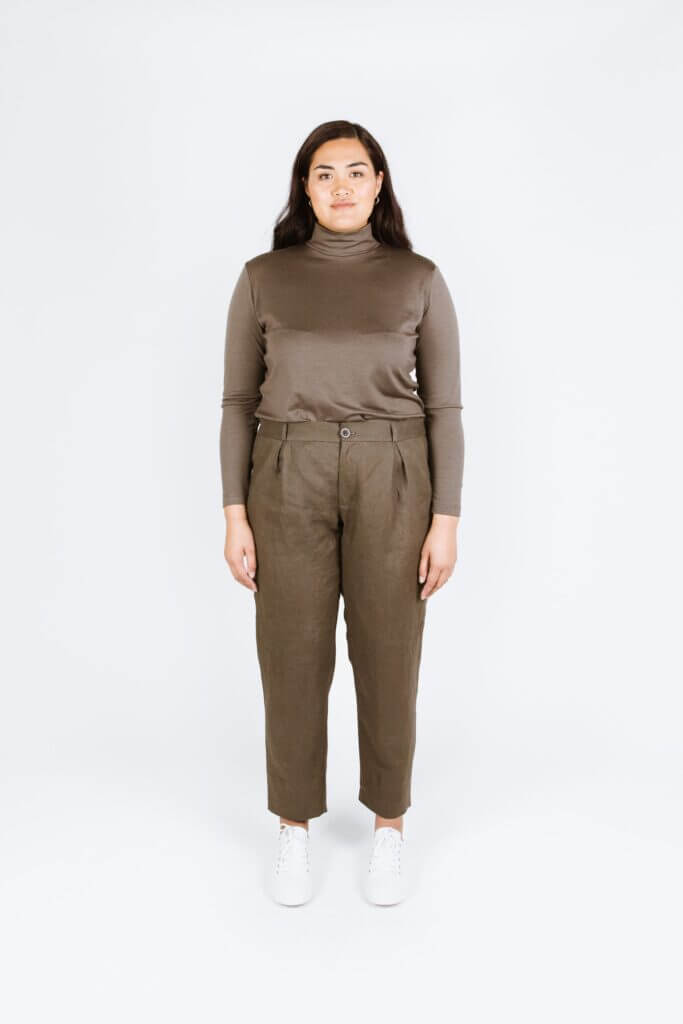 This turtleneck pattern from Papercut is bound to be a great addition to any wardrobe. It looks great as a piece to layer with, and so is perfect to get you through the cooler months. This Pattercut pattern has two variations: a fitted version, or a dropped shoulder style with a looser fit. Why not try making both?
Skill Level – Beginner
Size Range – UK 6 – 20
Fabric – Jersey: Merino or Wool Jersey, Cotton Knit, Cotton or Lycra.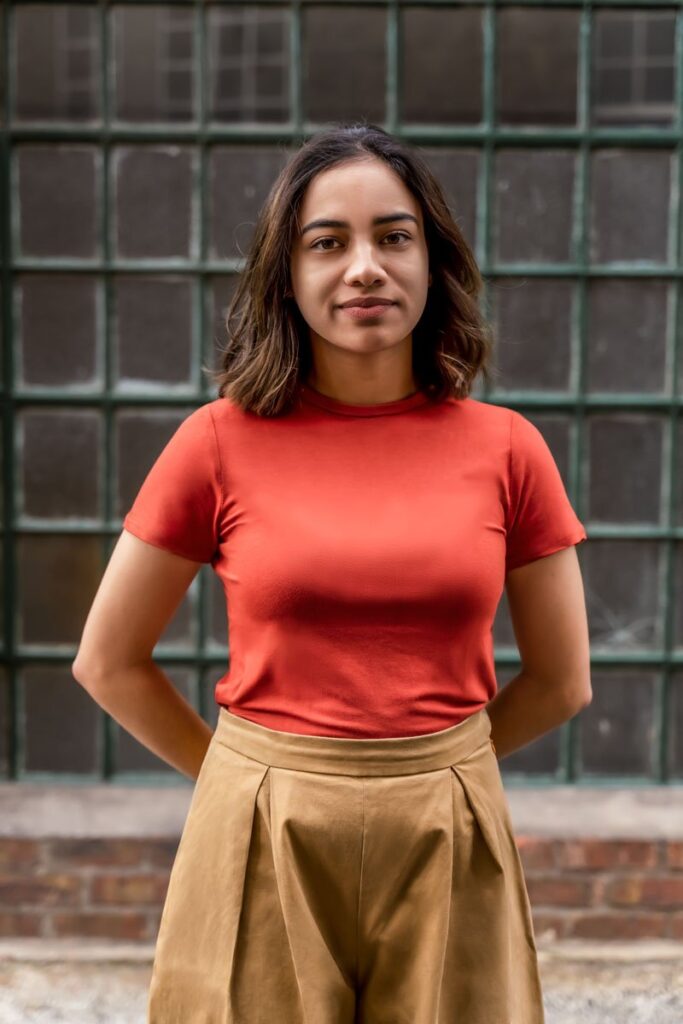 This Afternoon Patterns pattern comes with a number of varieties: a fitted round neck t-shirt base with the option to add long sleeves or a roll neck. This make is brilliant for the summer months, and is ideal for those learning to work with stretch fabrics as this tee is a quick one to make up.
Skill Level – Beginner
Size Range – UK 6 – 24
Fabric – Jersey knit fabrics with 30–50% stretch: cotton T-shirting, viscose elastane blends, and rib knit.
We think this would look gorgeous in one of our micro leopard print jerseys!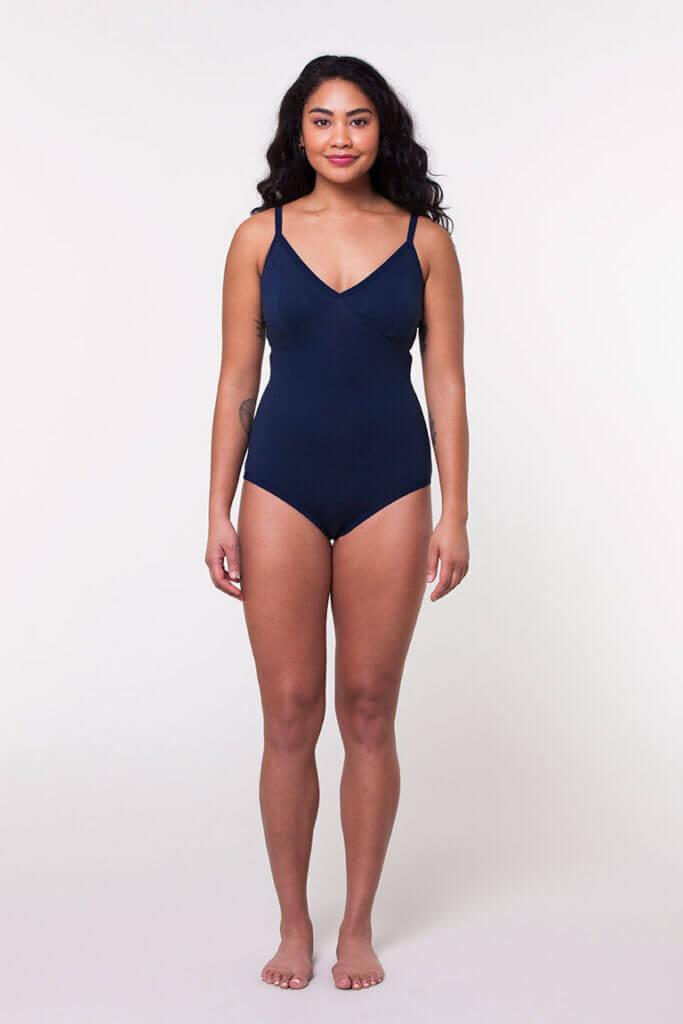 This bodysuit pattern from Seamwork is a great make for the upcoming summer months. This piece features fold-over elastic finishing, lined cups, and crotch snaps, making it a functional yet equally stylish garment – a great project to develop your sewing skills.
Skill Level – Intermediate
Size Range – XS – 3X
Fabric – Lightweight to medium-weight knits with 4-way stretch : ribbing, jersey, stretch lace, or mesh.
We have plans to make a few of these in our patterned jerseys for this summer!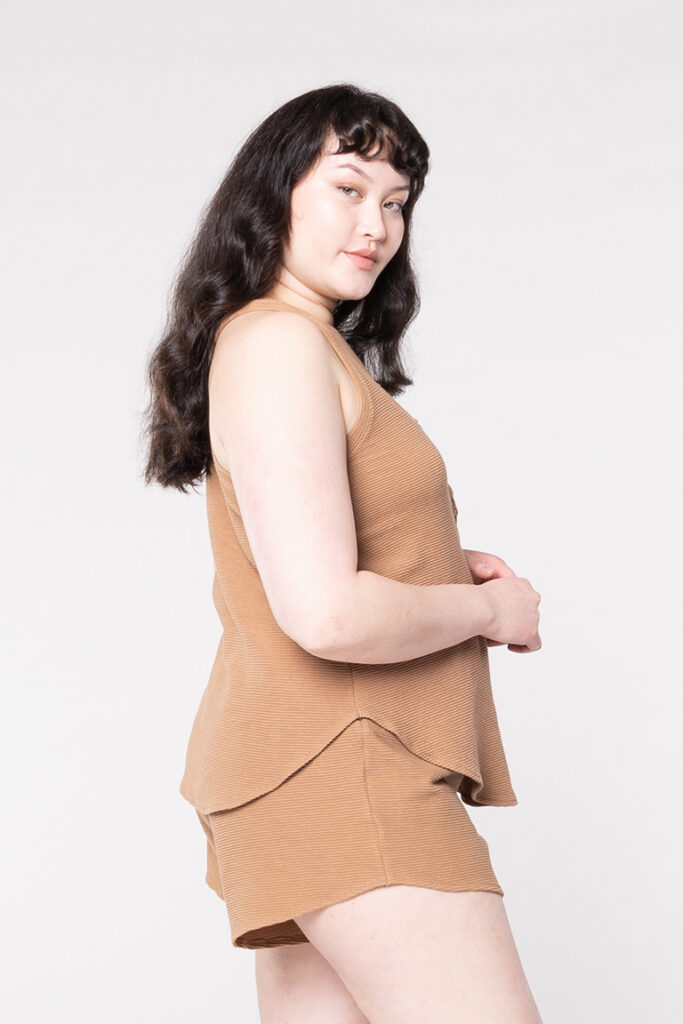 This PJ set from Seamwork is so great that if you make it once it will be a matter of time before you have made it again and again and again in different colour waves. The Cal pattern uses a racerback tank top and semi-fitted boxer shorts. This incredibly comfy make will have you reaching for them every night to sleep in, as for lounging during the day.
Skill Level – Beginner / Intermediate
Size Range – XS – 3X
Fabric – Light to medium weight knit fabrics with at least 50% stretch : cotton, rayon, bamboo jersey, rib knits, and thermal knits.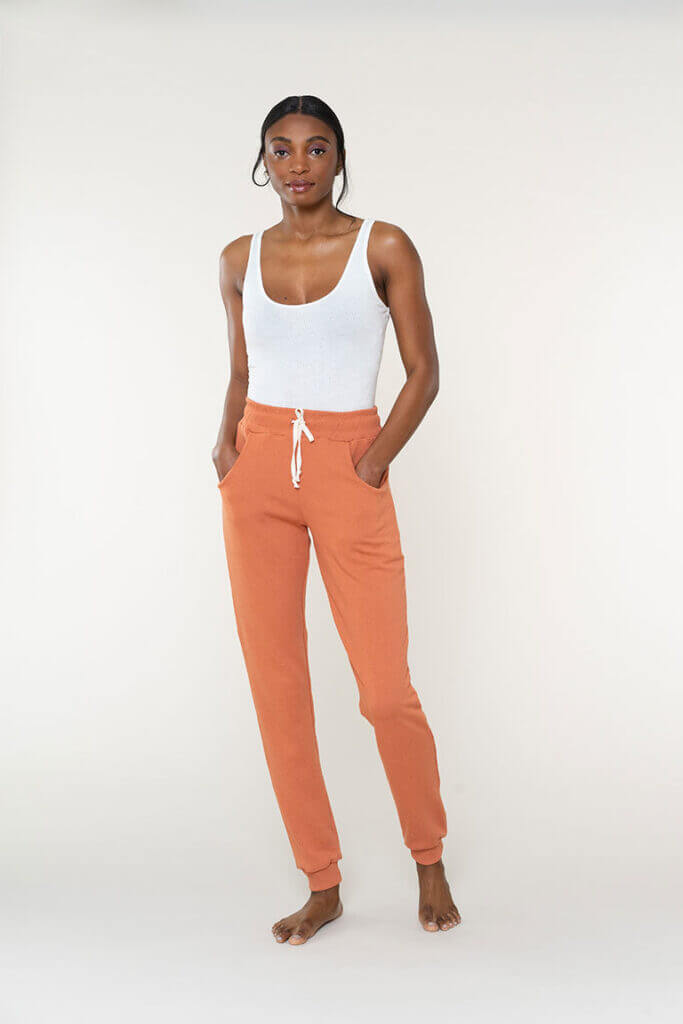 The Mel joggers are a great garment to make to get you through a lazy Sunday, or for any of you still working from home. This pattern by Seamworks has a relaxed mid-rise fit, elasticized drawstring waistband, cuffs at the hem, and pockets. A great make for those wanting to practice these slightly more complicated elements.
Skill Level – Beginner / Intermediate
Size Range – XS – 3X
Fabric – Medium weight knit fabrics with at least 35% stretch : ponte, French terry, double knits, sweater fleece.
SC Jenny is already planning on making these with our new, and stunning, tie dyed French Terry which we can't wait to see!
If you end up making any of the above patterns, or purchase any of our fabric, be sure to tag us on social media so we can check out and share your work. You can find us on Facebook HERE or you can follow us on Instagram at @sewconfident