Don't know enough about overlockers but want to know more? Then keep reading, this post is for you!
Many of you have probably been hesitant in buying an overlocker, because they look big and scary. Or, because they seem a little expensive. But don't let their slightly daunting exterior scare you off! These machines are what can give your sewing projects the professional, finished look you aspire for.
Overlockers happen to be Jenny's favourite type of machine, and through this post we'll be discussing some of the most common questions Jenny has been asked about overlockers. Hopefully, these answers will reassure you that these amazing machines are a worthy purchase, and will help rather than hinder you with your projects.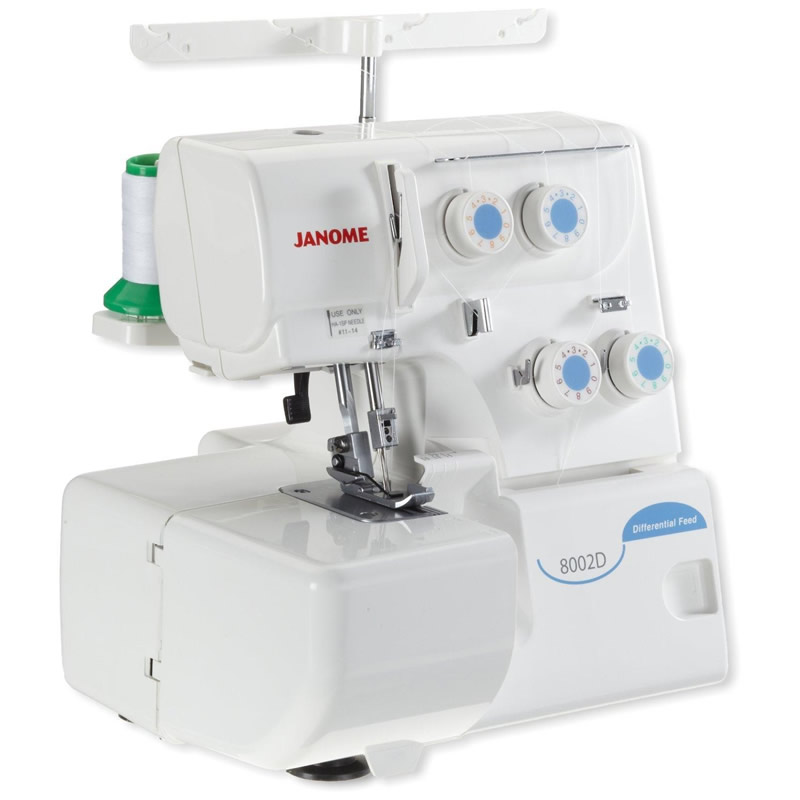 Does My Sewing Machine Overlock?
No, your sewing machine definitely doesn't overlock. It may have an 'overlock' or 'overcast' stitch, but it most certainly doesn't overlock. The overlocker has 4 threads and a blade. Your first machine should always be a sewing machine, with your overlocker being an additional one you use for stretch fabric, creating raw edges, and a professional, fray free finish.
How Do I Stick To My Seam Allowance On An Overlocker?
Some overlockers have a guide on the front of the machine, others do not. Your overlocker probably has a seam allowance of 6mm – which is what most patterns designed for overlockers permit. This means, if you don't cut any fabric off, you will be stitching a 6mm seam allowance. If your seam allowance on your pattern is 1cm, you will need to cut off 4mm consistently. I would say, however, don't get too hung up on being super accurate. Usually with stretch fabric you can get away with a lot more in the sense of inaccurate seam allowances!
What Is Differential Feed?
Some machines have a differential feed option (all mid to top range ones will have!). The differential feed relates to the feed dogs in the machine. You will have a front and a back set of feed dogs – the differential feed allows you to, ever so slightly, knock them off kilter so that they operate separately. This is allows you to either: alter the type of sewing; for example start gathering; or adjust the stitch to suit the fabric. If your overlocker is making your fabric wave, you can adjust the differential feed to flatten it out. Always test out your overlocker using scrap pieces of fabrics, so you have them sorted from the start.
What Would I Use It For?
Overlockers are exceptional at sewing stretch fabrics. It is their bread and butter, they can do it all day long, happy as Larry. Up until now you might think that stretch fabric is too difficult and a nightmare to sew with, but that's not true… with the right machine, that is. Most sewing machines have stretch stitches, but even the BEST sewing machine stretch stitches can't beat an overlocker. They are also known for sewing things up quickly; because it does a straight construction stitch and neatens the raw edge of the fabric – it kills two birds with one stone. You can easily sit down at your overlocker to make a T-shirt and be wearing it a couple of hours later. It's THAT quick!
Is It Hard To Thread?
Ah that old chestnut! The internet might make you believe it's a nightmare, but it's just like anything else, once you know how you're sorted! Some machines (the cheap supermarket ones – sorry!) can be a bit of a nightmare with tension in particular. If you have one and you are struggling , and think it might not be working, take it back to the shop and ask for advice – or join our sewcial group and ask us! It has 4 threads rather than 2, so yes it takes a bit longer to thread, but the rewards are worth it, believe me! We have an online course showing you how to do it, as well as in person courses.
What Thread Does It Need?
Your normal sewing machine thread can be used in an overlocker. You might think it takes special thread because you see the giant cones on the machines, but it's just a larger quantity of sew-all thread. You CAN get special thread for special projects, namely wooly nylon which is a fluffy thread that is soft for sportswear and dance costumes, but you only need that if you're sewing a lot of those kinds of items. Colour wise its good to invest in 3 sets: black, white, and either beige/natural or light grey. If you are sewing a canary yellow T-shirt, you can have one spool of canary yellow on the left needle, and white on all the rest. The left needle is the thread that, when a seam is pulled, will potentially be slightly visible on the outside.
Do I Need One?
Yes.
Seriously though if you are into dressmaking, and you wear a lot of stretchy shop-bought items , then surely you want to start sewing using a fabric you love wearing? I have never known anyone to buy an overlocker and then not use it and love it. If you have one already and need a hand getting-to-grips with it, or would like some advice on finding the right machine for you, drop me a wee message. I'll get you overlocking your weekends away in no time.