As more restrictions have lifted and everyday life returns, now is the perfect time to make your own A/W wardrobe; using sewing patterns inspired by the A/W trends of 2021. After all, we all deserve a fabulous, handmade outfit to show off on our autumn walks (with an iconic pumpkin spiced latte of course.) Following a pretty negative and uncertain year, as creative people, some wardrobe inspiration is exactly what we need right now.
A/W inspired sewing patterns are shown below that you can create for your own wardrobe. Be ready for questions from friends, and strangers a like, about your outfit when you wear it publicly. You'll need the phrase, "I made it myself," on repeat for the foreseeable.
If you find some of the patterns or instructions to be a little tricky, we offer a sewing pattern class that you can check out here!
Dresses
The Lyra Dress sewing pattern is one of Tilly and The Buttons newest offerings, which we currently have in stock. An incredibly versatile dress pattern that contains customisable options. This makes a perfect pattern to help you transition between the seasons. For example, accessorising with a hat, long scarf and gloves for the colder seasons ahead, alongside a cosy pair of ankle boots. There is also a choice of two sleeve and hem lengths!
Fabric suggestions; light to medium-weighted woven fabrics, such as:
Friday Pattern Company's Saltwater Slip Dress pattern is also a dress that can be worn many times throughout the year. You can dress it up or down, in relation to your events or environments. For autumn and winter time this dress is perfect for layering, or wearing with a pair with tights, and an oversized winter coat. This dress pattern includes adjustable straps as well as two length options for your preference.
Fabric suggestions; designed for woven fabrics
Cashmerette's pattern for Roseclair Dress comes in 3 different lengths, giving you the option for alternative styles for different seasons. View A features a three-tiered ankle length skirt, with bishop style sleeves and large angled cuffs. The ankle length pattern is a perfect style for the autumn and winter chill, perfectly paired with a shawl, and also some boots to keep you warm on winter adventures. The pattern comes in sizes 0-32.
Coat, Tote Bag, T-Shirt and Jumpsuit
The September Coat, from Merchant and Mills, is the perfect coat for both winter and summer, with the option of making it lined or unlined. Depending on the fabric you choose, The September coat can be a suitable winter coat. For example with fabrics such as wool or oilskin to keep you dry and warm, or linen for the summer time. The overcoat style is always a good choice for the inevitable autumn breeze, and the length provides your legs shelter from the rain. A thick long scarf is an ideal accessory, alongside a basic tee and some light-wash jeans. (Size 6-18) (Size 18-28)
The Brando Tee, is a free unisex pattern by Mood Fabrics. The tee is a simple design which can be paired with almost anything due to its versatile qualities. If simple is your style then a plain bamboo like fabric would be a great option, however if you want a pop of colour perhaps a printed fabric might be best! A denim or leather jacket would be a great addition to your outfit, alongside a pair of jeans or tucked into an ankle length skirt.
Fibre Mood's Fiona Jumpsuit is the perfect A/W inspired pattern; a cosy, yet stylish autumn look. Choosing a soft, lightweight fabric means this can be worn as a lounge jumpsuit for couch days, or a fashionable outfit for day plans. On colder days, thermal undergarments are an option to keep the heat in. You can style the jumpsuit with a tie belt, to accentuate the waist. However, this is optional and can be left out. The trouser length are similar to culotte trousers, but can be lengthened if desired.
Accessories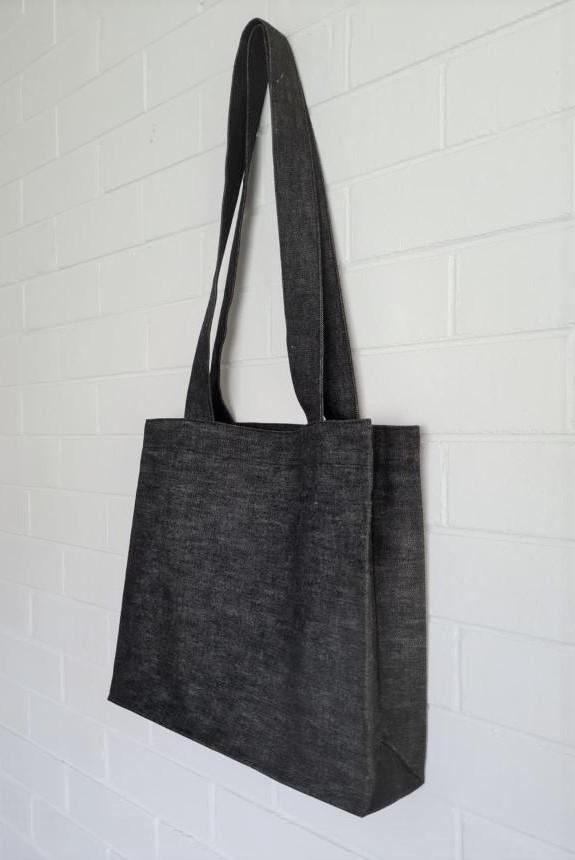 Elbe Textiles will be donating proceeds from sales of the Buckley Tote pattern to charity; also choosing a different cause each month or two. This month's the proceeds are going to Firesticks Alliance Indigenous Corporation. This pattern suggests using heavier fabrics for a more structural and sturdy finished product, also it includes inside pockets and lining. This makes for a great reusable shopping bag, beach bag or just a general bag to carry your everyday essentials.
These A/W inspired patterns will make a beautiful addition to your handmade collection. Interested in looking for more A/W inspired patterns? Then check out our previous blog here!
For help with printing PDF patterns, information about places you can send PDF's to to be printed; can be found on another blog post of ours. You can find it here.