Beatson Cancer Charity supports people affected by cancer, every step of the way. They make the journey easier by transforming the way cancer care is funded and delivered. They provide services, as well as funding specialists, research and education to invest in a better future for cancer patients and their families.
In March 2020 Beatson Cancer Charity were proud to register its very own tartan. The gorgeous fabric was designed specifically for the charity by Jane Hunter, with support from Slanj, the tartan's colours are taken from the Beatson Cancer Charity logo and palette of corporate colours.
Beatson Cancer Charity Tartan Crafty Makes
We are going to show you a quick & lovely project to make that will only take up a small amount of tartan. These would be great to make and sell to help raise important funds for Beatson or for lovely gifts to help raise awareness! The project is a nice smelling heart hanging but we will also list some other project ideas you can make with just 1m!
You will need:
Beatson Tartan Fabric (1m would make a lot of these!)
Scissors/Fabric Scissors
Pinking shears to stop edges fraying (optional)
Fabric Scraps or lavender filling for inside the heart
Pen & Card to make heart shaped stencil (can draw heart straight on to fabric if you don't have a pen/card)
Chalk
Ribbon
Needle and Thread
Sewing machine (can be hand sewn instead!)
The process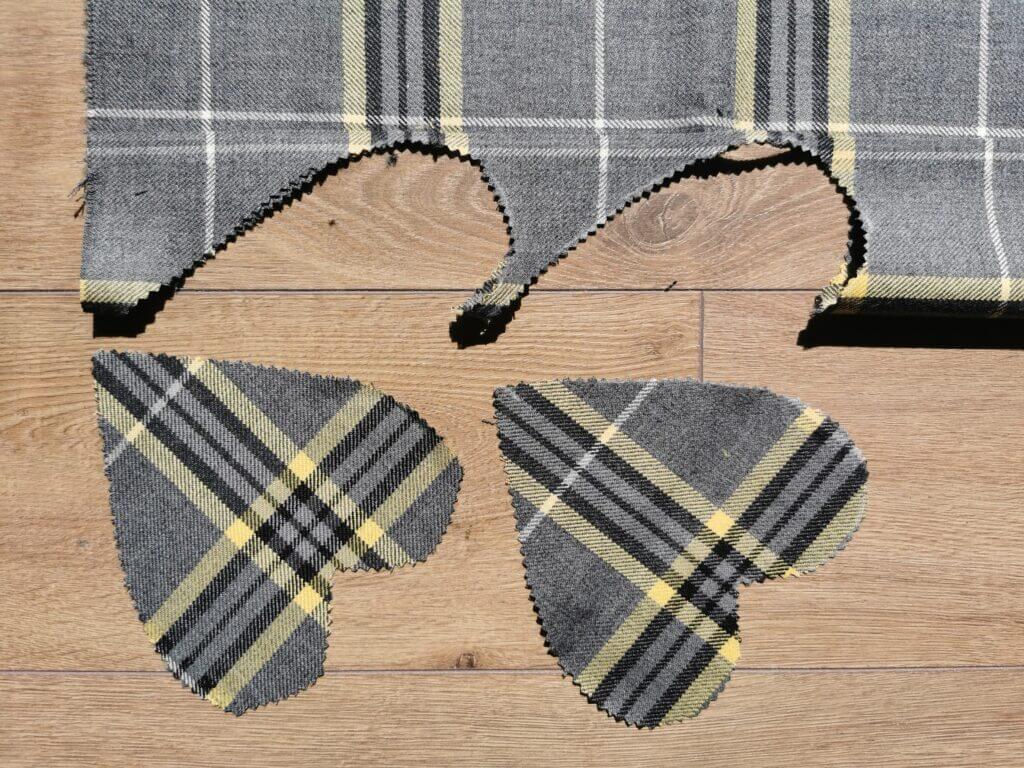 Draw a heart shape on to card and cut it out. If you don't trust yourself drawing the perfect full heart, you can draw have a heart and put the centre line if the stencil against the fold of the fabric. This will then give you a full symmetrical heart as seen in the image to the right.
I cut these out using pinking shears but normal scissors will work too! Pinking shears are used to stop fabric fraying as easily. You want two hearts cut out to make one project.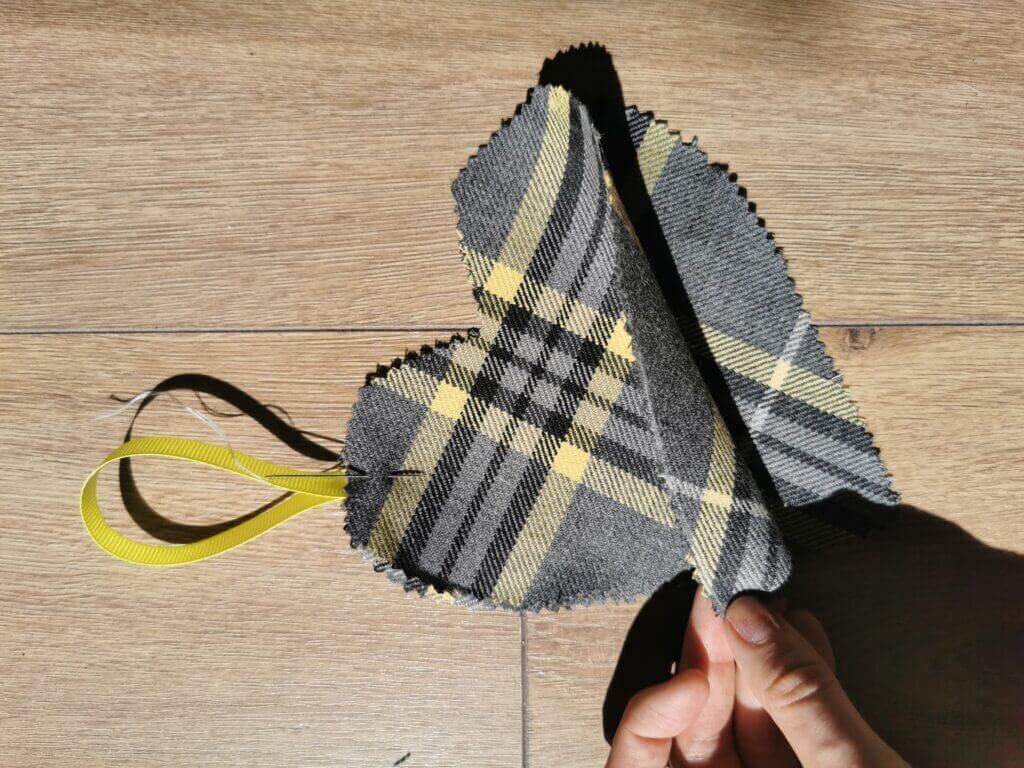 Next we want to cut enough ribbon to fold in half and sit 1cm inside the two hearts. Making sure you still have a big enough loop for where ever you choose to hang it from.
With either a sewing machine or hand sewing, we want to stitch round the heart, catching the ribbon inside and leaving a gap on one of the sides. The gap needs to be big enough for you to fit your fabric scraps or chosen stuffing inside.
Whatever stitching method you use, do remember to back tack/do a securing stitch at the start and end. This will ensure that the stitches will not come out.
Finally, stuff the heart shape evenly with your chosen filling and move on to the final step!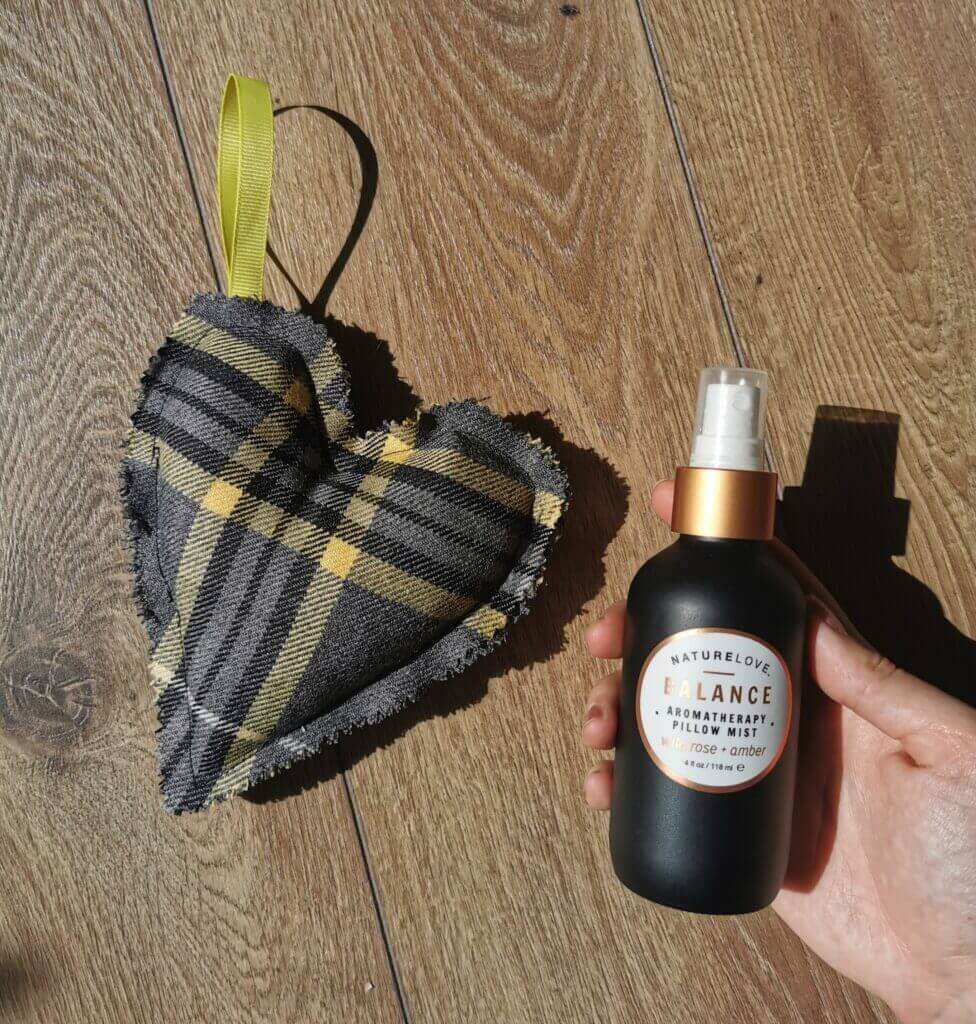 The last step
Now that your stitching is complete, you can add any finishing touches you like. Personally, I sprayed mine with aromatherapy spray and gave it to my Grandad to keep beside his bed!
---
Further Beatson Cancer Charity Tartan inspiration
If you want to fit even more project in to a metre of this gorgeous tartan, here are some ideas below!
Memory bear – At our memory bear classes we love when people add a personal touch by using a loved ones clothing. That mixed with this tartan would make a lovely keepsake.
Tote bags.
Clothing – You can currently buy kilts in the Beatson tartan but we would love to see someone create eye catching shirts, skirts or more in this fabric! Reminder, if you need help sewing your own clothes, check out our various pattern classes here!
Dog Jackets.
Quilts.
Yoga mat straps
Christmas stockings
Cushion Covers
The list is endless! Finally, be sure to tag ourselves and Beatson if you create anything mentioned in this blog or with the lovely Tartan.
You can find Sew Confident on Instagram HERE and also Beatson Cancer Charity instagram HERE.
Other news
12 November 2023
IIIIIIIIIIT'S CHRISTMAS!!!!!!! Well… almost. It's certainly time to get your gift list together anyway. And if you're the sort of […]
12 November 2023
As you may have seen on our Instagram, we've started creating inspiration mood-boards for the season to help you get […]
9 September 2023
We've had the pleasure of catching up with the multi-talented digital content creator Paige Joanna about how she manages to […]