Hi everyone, Jenny here! We are in lockdown #367 now and I don't know about you but I am dreaming of a day when I can step outside and see other people. I miss getting dressed up for nights out, I even miss having to put a nice outfit on to goto a work meeting. I'm wondering if you are feeling the same? Don't get me wrong I have been LOVING spending this much time in stretch fabrics but as spring approaches, and the vaccine brings new hope of freedom I am starting to think about my spring/summer wardrobe.
I am a skinny jean kind of girl. And I have been since Topshop started selling Baxter jeans – remember them? I live in high waisted Levi and Biba but I'm wanting to branch out this year into some wide legged bag boys. Victoria Beckham never really left her wide legged trousers behind but just about everyone else did. 
One of the big trends for Spring/Summer 2021 is wide legged trousers, so this Catwalk to Cutting Table blog is dedicated to the wide legged, tailored trouser – enjoy!
Go big or go home right? I'm jumping right in the deep end here with a VERY voluminous pair of tailored trousers from American designer Brandon Maxwell. Now at the moment catwalks aren't really happening but this is from his catwalk collection so it WOULD have been on the catwalk in a parallel universe.
The pattern I would use for this would be the Flint Pants by Megan Neilsen, as with a couple of tweaks I reckon these could look pretty similar!
First tweak would be to lengthen the legs so they are floor length. Then where the Flint Pants have a box pleat I would be changing that into 2 forward pleats. If you can, I'd also add more volume. If you've been on our Drape Draft and Design Course I have taught you how to add volume to patterns and this is definitely a skill I would utilise here! Finally I would make the waistband bigger. I wouldn't worry about adding a fly zip at the front as I think they will still look amazing without it and you want to add your own twist to this. The back has some nice pockets you could add, but I also think these would still look fabulous without them.
What about fabric? These are made from a wool satin, I don't think I've ever even seen wool satin in my life, so I can only imagine it's niche and very expensive. However, looking at these I can see there is a nice weight and drape so I would be looking at a wool crepe or even a polyester crepe. These come in a few colourways so I picked my two favourite colours – the green (above) and the pink (below) and went hunting for suitable fabrics!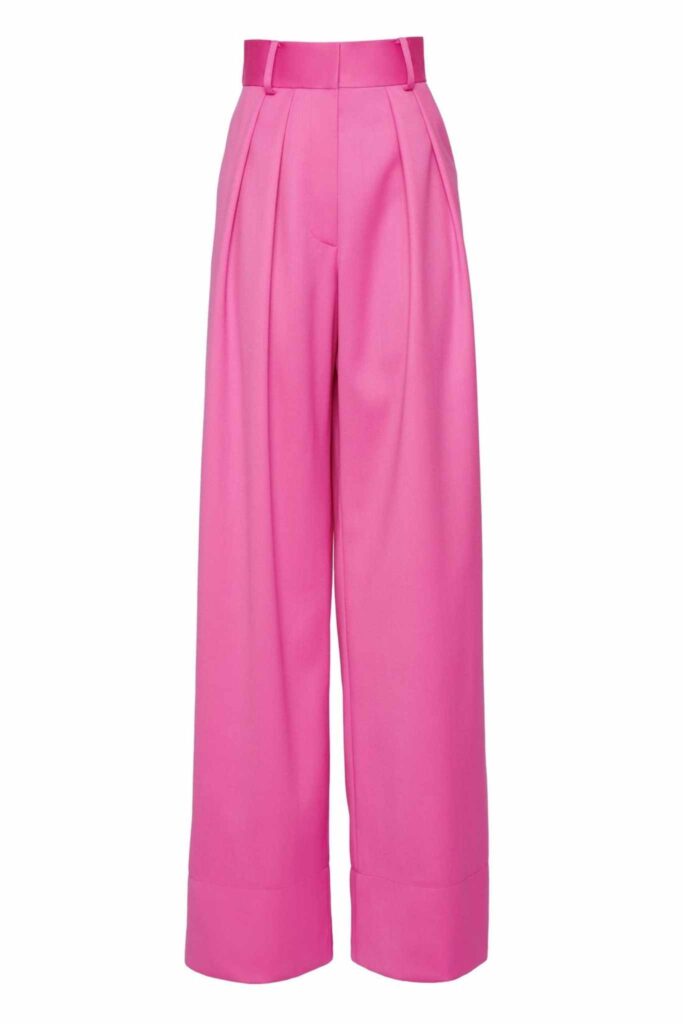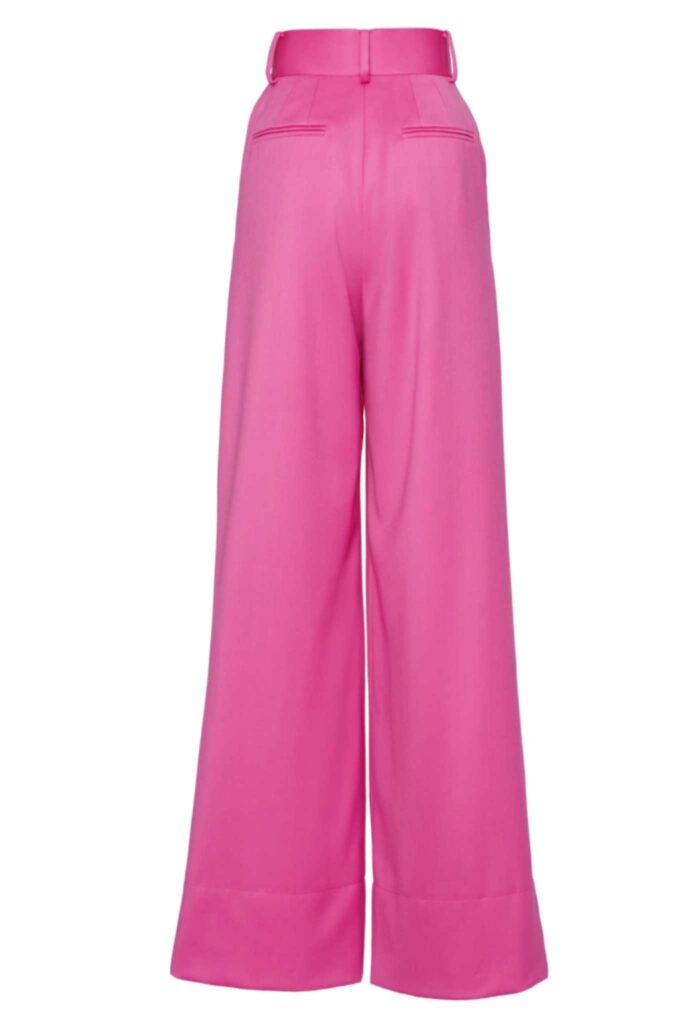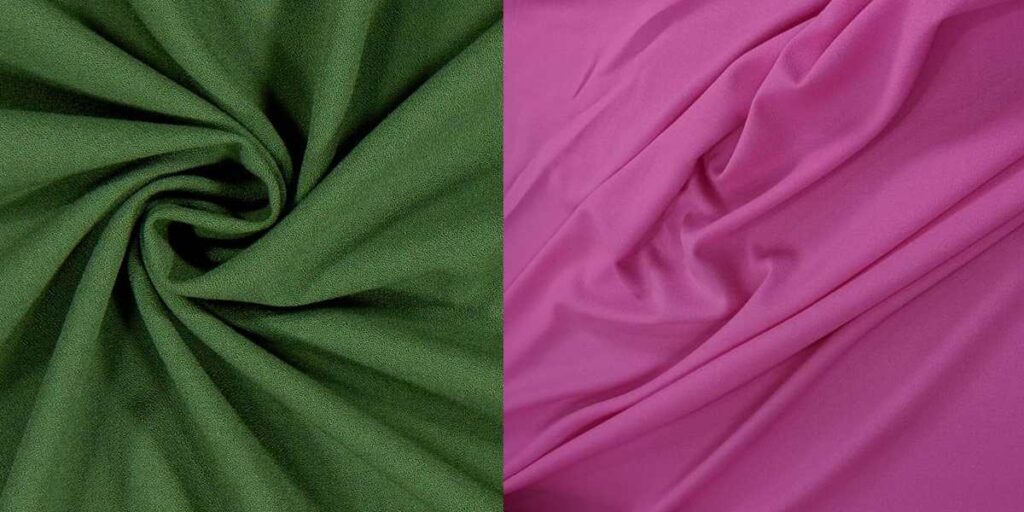 Without doubt the green was the hardest to find. They are a really unusual shade but I think this Poly/viscose/spandex Crepe from My Fabric is not too far off and it's really cost effective at £12.45 per metre! You can get it here.
The pink was a bit easier. I LOVE this shade of pink, it's a bit Pepto Bismol-y which, by the way, is not even a bad thing because I love the colour of that stuff (But not the taste!). This is a premium wool crepe sow ill make a seriously luxurious pair of trousers. It comes in at £22 per metre. I would definitely make a toile before you cut into your more expensive fabric. You can get it from Dalston Mill here!
There you have it – our Catwalk price is a cool £1450 BUT your home sewing price could be as little as £56.85 for your pattern and 3m of fabric – not bad for a high fashion look!
As Always, if you have a go at making yourself a pair of fabulous, bang on trend wide legged trousers – let us see them! You can tag us on Instagram @sewconfident!
If you are interested in finding out more about our Drape Draft and Design Course you can join the waiting list here and we can keep you updated.
Until next time, Happy Sewing!
Jenny x
Other news
12 November 2023
IIIIIIIIIIT'S CHRISTMAS!!!!!!! Well… almost. It's certainly time to get your gift list together anyway. And if you're the sort of […]
12 November 2023
As you may have seen on our Instagram, we've started creating inspiration mood-boards for the season to help you get […]
9 September 2023
We've had the pleasure of catching up with the multi-talented digital content creator Paige Joanna about how she manages to […]