IIIIIIIIIIT'S CHRISTMAS!!!!!!! Well… almost. It's certainly time to get your gift list together anyway. And if you're the sort of person who needs a helping hand, we've got you covered. We've compiled together a Sew Confident gift guide so you can show the festive love to all your crafty people this Christmas.
We've separated our guides into who you're buying for, and budgets. So first up we have our Beginner Sewists and the best things to buy for someone who has perhaps just began their sewing journey and needs some pointers on the best bits of kit to get them going…
A Gorgeous Gift Set for Under £25:
Yep, you heard right! Under £25 will get you a whopping five fabulous stocking fillers, and will get your crafty recipient well on their way to become a sewing master. This lovely set of treats are the perfect starter pack for anyone who needs some pretty essentials to elevate their sewing, and add up to a mere £24…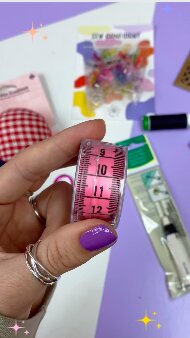 Starting with the most basic of sewing necessities, the tape measure! Not one to be overlooked, especially since ours come in three funky shades: pink, blue and green. Accompanied with a wee plastic box for easy storage these little fellas come in at a singular pound a piece.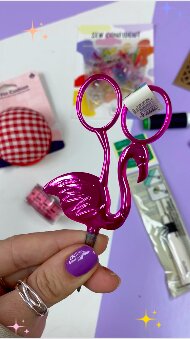 These fabulous flamingo embroidery scissors are the sweetest sewing accessory! For only £11 you can have the cutest companion to snipping threads, and not blunt your fabric scissors! Handy and stylish…
It's all too easy to buy a flimsy mini seam ripper on the cheap, but don't scrimp on your must trusty companion! These Prym seam rippers are only £5, they're super sturdy and ergonomic, made to be used over and over, not to mention sharp enough to erase those mistakes we're all so prone to.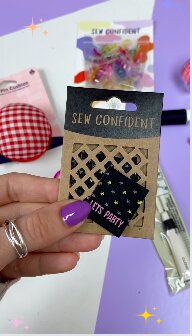 Fabric clips are fast becoming the trendier alternative to pins, and this colourful set of 20 will set up any sewist ready for any and every project! Clips are better to use when overlocking, not to mention less of hazard and less time consuming than pins, so it really is a win win! Our pack of 20 costs just £3.
These new labels are our pride and joy! Perk up projects and make them look extra special with our Sew Confident labels. We have six different designs available and all packs come in sets of 6 for £6.
A Perfect Project for under £50:
For under £50 we've put together a kit with all the bits and bobs you need to make a zip up bag or pencil case! Beginners who've been to one of our courses should be old hat at these projects, so they'll be chuffed to get a pack for them to make another. We've kept in the essentials, don't worry- tape measure, zips, snips and clips are always foolproof pressies that just add an extra slither of thoughtfulness into your bag of goodies.
So, without further ado here is our perfect pack for creating a gorgeous accessory for a measly £49.15!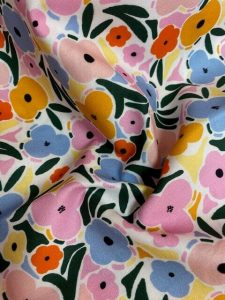 Our quilting cottons are the ideal fabrics for wee crafty projects such as pencil cases or makeup bags: super easy to work with and available in pretty prints, they're fab for contrasting, reversing and everything in between! Get two different types to mix it up for only £6 per half metre! To make the zipped bag, match the fabric with a Gutermann Sew-All Thread and a colourful zip for £1.50 et voila!
What kind of sewing shop would we be if we didn't recommend fabric scissors?! These Hemline dressmaking scissors for just £10 are the perfect first fabric scissors for any beginner maker.
Arguably the most fashionable accessory in this gift guide is this, the wrist pin cushion! All sewists swear by these, as it makes the picking up of pins from the floor at the end of a project a nightmare of the past. The handiest of hacks, you'll never want to take it off!
Now to make it the perfect curated gift, chuck in a couple of bits from the Under £25 set, like our Sew Confident labels, fabric clips and the flamingo scissors, and your crafty pal will be forever grateful.
A World of Sewing for Under £100:
Now, if you're wanting to up the ante and spend a little bit more on gift giving this year, here's an upgraded set of pressies that will really open up the doors to a whole new world of sewing. This set also includes enough bits n bobs to make a Liberty piped cushion cover! Don't say we don't treat ya!
Just half a metre of luxurious Liberty will give you enough fabric to make a cushion cover, and will really up your gift giving game. This, coupled with 2 metres of matching bias binding (£1.10), 2 metres of piping cord (0.80p) and a zip (£1.50)- you've got a piped cushion project!!!!
Our very own ambassador Jen Rich has a book perfect for beginners looking to expand their repertoire of me-makes and build their confidence. Full of wonderful wee projects, 'Stitch' is a helping hand for anyone not quite ready to jump headfirst into dressmaking but looking to build up their confidence.
If you're ever going to be serious about sewing you must have sewing themed accessories! Our new pals over at Mimiquins have a brilliant range of necklaces and earrings, and our favourite is this stork scissor necklace! And yes they can match the embroidery scissors!!!
Accompanied with the wee additions from the gift set above, including a sewist's best friend the set square and fabric scissors of course, this gift set comes in at a hot £99.23 in total!
Stay tuned for the second edition of our Gift Guide Blog, where we'll be giving you all the best bits for an intermediate sewist!
Happy Sewing x
Other news
12 November 2023
IIIIIIIIIIT'S CHRISTMAS!!!!!!! Well… almost. It's certainly time to get your gift list together anyway. And if you're the sort of […]
12 November 2023
As you may have seen on our Instagram, we've started creating inspiration mood-boards for the season to help you get […]
9 September 2023
We've had the pleasure of catching up with the multi-talented digital content creator Paige Joanna about how she manages to […]