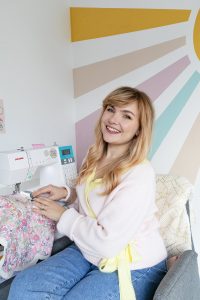 We've had the pleasure of catching up with the multi-talented digital content creator Paige Joanna about how she manages to keep on top of a busy schedule, and still make time for her crafty projects. Having recently launched her own Digital Sewing Planner (available now on her website) she is something of a time-keeping pro, so we're pretty delighted she's agreed to share her secrets with us. Have a read to get the hottest tips in keeping organised…
Getting to know Paige Joanna…
Name: Paige Joanna
Age: 32
Fave hobby: Crafting/ sewing!
Fave song right now: Busted, Meet You There
What's your current project? I have a few on the go! A corset, waistcoat, prom skirt/ top for a party!
What sewing machine do you currently use? Janome DKS100
What sewing machine/ overlocker would you love to try out? I'd love to try the Babylock Overlockers
What's the best sewing tip you could share with us? I always have a packet of post-it notes next to my sewing machine. Perfect for sewing thin strap edges and starting off a stitch that doesn't have any fabric for the feed dogs to push it through, the post-it note can then just be torn away! So handy! I have some reel videos showing how to use them.
Let's chat Planning and Time Management…
What are the three main principles you follow to plan your day and manage your time when starting a new sewing project?
Day to day looks different for me because I juggle parenting a busy toddler, freelance social media content for brands, and my own brand! Keeping organised looks different depending on the day but the main consistent thing I do is start by writing a to do list on paper or on my phone notes. For my sewing projects I used to map out my plans in a bullet journal, but since creating my sewing planner, I now use the pages to plan and document my makes! Overall the 3 main things are todo lists, sketching on my iPad, and planning with my digital sewing planner.
Are there any tools or techniques you use to stay organised and on top of your schedule?
I love using my new sewing planner! But to design my makes I often use pro-create which is an iPad software to illustrate the fabric I am using, and 'clipping mask' the fabric to the technical drawing of the pattern to plan my project.
How do you handle unexpected interruptions or changes to your planned day?
I really struggle with interruptions to my day because I juggle so much and have to work around so many factors like childcare, clients, work projects and deadlines. If my child is sick, or I am unwell, or something breaks or goes wrong it can be quite stressful. I have got better though at accepting when things/life happen, and going with the flow! We can't always help it when factors are out of our control, and thankfully everyone I work with and around me is so flexible and understanding! I'll also meditate if I am finding my stress levels rising.
When it comes to a new project do you have any tips for maintaining focus and avoiding dreaded distractions?
I learnt a tip from Tilly and the Button's book Make It Simple- actually it's okay to work on a project in small time segments and not in one go. We don't all have the privilege of full sewing days, so with that in mind I enjoy the process as much as I can around nap times or evenings, etc! I'll put on a podcast or music and that helps me to focus on the task.
You have a brand new PDF Planner, how and why did you come up with this idea?
This idea has been in the works all year! It started from a love of bullet journaling and lacking the time as a mum to mock up planner pages every time I wanted to start a new make. With that in mind, and also my plans of creating more digital products I could invest time in, and then hoping that they would become evergreen products for me, I created my planner! I combined a lot of elements from other planners I have seen, as well as bullet journaling pages, design elements, sewing techniques pages, and more! It really is a combination of all my passions in one place.
How can people best use your planners?
It's a digital product so you will need to print it at home. The best advice I would give for this though is to read through it first digitally, and then print the pages that align with your planning and sewing style the most. For example; you might already be a keen sewer so wont need the sewing tools list and things like that, but want multiple pages of the fabric stash page, project planning page, etc!
We think your planners are awesome, can you tell people where they can find them?
You can find my Sewing Planner, and my Sewing Pattern PDF envelope organisers on my website, shop.paigejoanna.co.uk and Etsy, if you search Paige Joanna Planner!
Lastly, if you could give someone one piece of planning/ time management advice what would it be?
Sewing is a marathon, not a sprint. It's okay to not finish a project super quickly, take your time, enjoy the process, and know that mistakes can happen and that is also okay. Even with meticulous planning things can go wrong, so being able to enjoy the process and adapt as you go is the fun of being a sewist. Enjoy the journey and use my sewing planner to guide you along the way. It should assist you to make your sewing as streamlined and organised as possible!
Other news
12 November 2023
IIIIIIIIIIT'S CHRISTMAS!!!!!!! Well… almost. It's certainly time to get your gift list together anyway. And if you're the sort of […]
12 November 2023
As you may have seen on our Instagram, we've started creating inspiration mood-boards for the season to help you get […]
9 September 2023
We've had the pleasure of catching up with the multi-talented digital content creator Paige Joanna about how she manages to […]