Back in 2015 one of my best friends Susan asked me if I would make her wedding dress…let me tell you, making wedding dresses for people you don't know is bad enough but making them for someone you love to bits is even worse! ?
I draped the bodice on a mannequin that was her size and made a toile ready for fitting. With the lace overlay I draped the body and flat drafted the sleeves to come up with a toile also ready for fitting. It's hard to imagine what it's really going to look like in calico so I actually bought a cheap satin and lace to make the first draft from. This way too important for calico!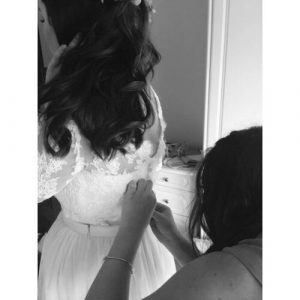 Then when Susan was happy with it we went to London to go shopping for the most expensive silk and lace I have ever had to cut! Talk about THE FEAR! I actually hand tacked around the patterns before cutting just to make sure it was right! It all went to plan! We had probably about 3 or 4 fittings, I used larger than usual seam allowances JUST IN CASE and I did a lot of hand sewing to make sure the lace stayed put.
The bride looks amazing and we all had an amazing day! Would I do it again? MAYBE! I am considering making myself a second wedding dress for my own wedding in Cyprus(that's been postponed for a year 'til Sept 2021) so I can have an outfit change mid day like Mariah Carey ?
Have you ever made something for someone special, or wanted to make something special for yourself? I'm going to be giving you some hints and tips on how to get started in my Drape, Draft and Design Challenge. Fancy it? Sign up and get involved click here https://bit.ly/3iWEgBT
Other news
12 November 2023
IIIIIIIIIIT'S CHRISTMAS!!!!!!! Well… almost. It's certainly time to get your gift list together anyway. And if you're the sort of […]
12 November 2023
As you may have seen on our Instagram, we've started creating inspiration mood-boards for the season to help you get […]
9 September 2023
We've had the pleasure of catching up with the multi-talented digital content creator Paige Joanna about how she manages to […]